| | |
| --- | --- |
| We recommend to buy Fetch at Binance Exchange | |
17 April, 2019
Fetch.ai—a new crypto project, bringing together artificial intelligence and decentralized ledger technology. Fetch had a token sale on Binance Launchpad, the exclusive token launch platform of Binance. The sale, which had begun on 25 February 2019, was completed just within 11 minutes. The FET tokens were purchased by 2,758 people. Fetch.ai is among the first successful projects sold from Binance Launchpad. What makes Fetch.ai so special that it caught the eye of Binance, one of the biggest and most reputable crypto exchanges in the world? Let's try to find out.
Concept
The project aims to create an innovative, decentralized economic environment, where digital agents represent real-world processes and value.
Fetch combines multiple cutting-edge industries at the same time: machine learning, artificial intelligence, autonomous agent systems, and decentralized ledger networks. It may seem like it's making business overcomplicated, but, in fact, the strategic goal is to bring economic efficiency—first and foremost, by automatizing processes requiring human intervention. This may touch many industries and markets, as automatization has nearly endless space to be implemented. Potential use cases: supply chains and energy.
So, Fetch.ai is creating the new decentralized and open framework to empower the creation of new economic systems powered by autonomous agents.
Fetch.ai has many innovative features, and there is hardly a project doing exactly the same. The closest competition might be from IOTA, Hashgraph, SingularityNET, and Matrix AI Network.

Team
The Fetch.ai team consists of 38 people. The main base is Cambridge, UK. The team has a string technical and research side with 10 devs and 11 researchers.
Let's take a look at the leadership team:
Humayun Sheikh, CEO, entrepreneur experienced in various industries.
Toby Simpson, CTO, software professional with thirty years of experience.
Thomas Hain, CSO, machine learning scientist and professor at the University of Sheffield.
Jonathan Ward, Head of Research, expert in machine learning.
Troels F. Rønnow, Head of Software Engineering, scientist and innovator.
Maria Minaricova, Head of Business Development.
Arthur Meadows, Head of Investor Relations.
Also, Fetch.ai has an advisory board of 6 professionals from various industries.
Communication
A great deal of attention to the project was brought by Binance Launchpad. After all, Binance is one of the leading crypto exchanges in the world. Even now, after the initial token sale hype has cooled down a bit, the website rankings are high and social media channels are growing with new followers. The set of social media channels display high activity of the team. The biggest engines of the community are the Twitter (7.8k) and Telegram (10.4k) channels. Overall, speaking of social media metrics, there are good results for a fresh project in the current crypto market.
According to Humayun Sheikh, the mid-term business development strategy focuses on building a developer community and engaging corporate partners. The target audiences are developers, tech companies, and academics. Fetch.ai has several ecosystem partners, including Clustermarket, Warwick Business School, ULedger, and Outlier Ventures.
Product
Fetch is a decentralized open-source project. The FET token is an ERC-20 token (that means it is based on Ethereum and follows certain standards). FET is the utility token. The tokens are used as the digital currency for all transactions within the network. The main language for Fetch is C++.
Fetch reaches consensus with a unique algorithm, called Useful Proof of Work (uPoW). It is designed to allow better scalability and energy efficiency. In private testnet, Fetch.ai has achieved 30,000+ transactions per second. The launch of public testnet is scheduled for the end of April, so it would be possible to learn more about Fetch scalability.
Fetch.ai has three major technical components:
Autonomous Agents – Digital entities representing individuals, organizations, services, and so on.
Open Economic Framework – released in December, it is the foundation autonomous agents act upon. The OEF provides a possibility for autonomous agents to interact—in one aspect, by matching their demands with offers of other autonomous agents. The key to supporting these processes is providing ontologies (controlled vocabularies) for describing different aspects of an agent. The efficiency of this process can be improved by using machine learning algorithms.
Smart Ledger – A ledger that provides a collective super-intelligence to support agents' individual intelligences. Smart Ledger will ensure the integrity and performance of the network. Though using the ledger technology, the Smart Ledger is not exactly blockchain or DAG (Directed Acyclic Graph). It is planned as a blend of both data structures that incorporates many other innovations.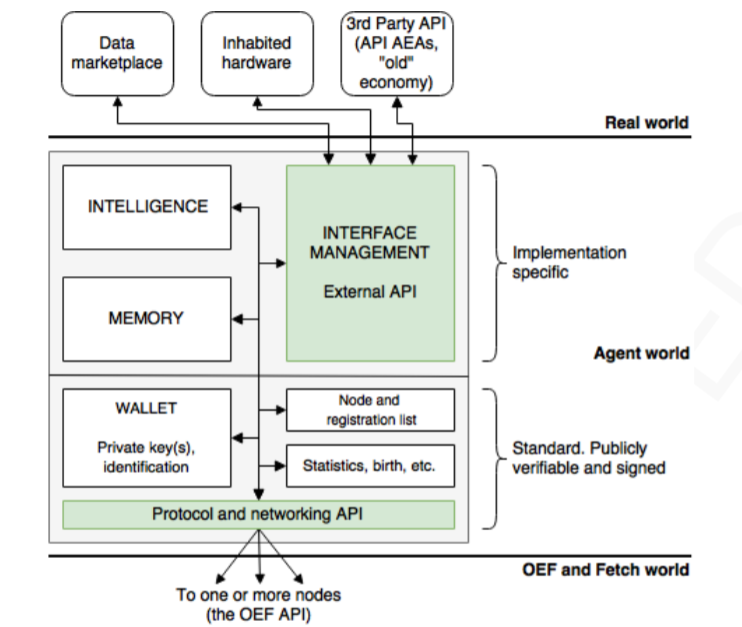 How agents are interconnected with other parts of the ecosystem. Source: Fetch Technical Introduction
Fetch widely uses machine learning and AI for various purposes within the platform. One of the goals is creating a market intelligence—a system that learns markets and interactions between them. This has huge potential to make those interactions more autonomous than they are now.
Making the network secure is another important part of the design. The first step was a UPoW consensus algorithm. More detailed information on security will be revealed in the special paper, planned for mid-2019.
Fetch.ai had experienced minimal delays in development. The release of the Fetch.ai mainnet, powered by the native on-chain FET token, is planned for the end of 2019.
Fetch.ai Summary

Concept:
Creating new economic framework based on autonomous agent's activity.
Advanced technology, including AI and machine learning.
Aims to resolve scalability issue.
Wide range of targeted industries.
Team:
Medium-sized team with strong focus on R&D.
Good leadership.
The main base is Cambridge.

Communication:
Good exposure from being a Binance Launchpad project.
Good social media presence.
Several ecosystem partners.

Product:
Private testnet stage.
Highly scalable ledger.
Three main components of the network: Autonomous Agents, Open Economic Framework, and Smart Ledger.
Public testnet is scheduled for the end of April, mainnet—for end of 2019.
In Conclusion
Fetch.ai aims to be an all-in-one project with many innovations, like machine learning and AI. Putting everything together looks like a complicated task, but the team gives quite a positive impression. Binance Launchpad gave media attention which an emerging crypto project can rarely dream of in the current market condition. Likely, Fetch.ai has enough resources to bring out a really innovative product. However, it's accurate to say that Fetch looks like a "high-risk high-reward" project (which is more or less correct about the majority of crypto). The project has a good concept and a team to bring it to life. There are strengths to face potential risks, so we consider Fetch.ai the undervalued project.
| | | | | |
| --- | --- | --- | --- | --- |
| Concept | Team | Communication | Product | Overall |
| 7.5 | 7.7 | 7.0 | 7.4 | 7.4 |
Got interested? To buy Fetch, open your account at Binance exchange today!
Already have Binance account? Try to trade at Kucoin exchange.