Maybe you've heard about collectible card games like Magic: The Gathering, Gwent, or Hearthstone. Sorare is a bit like them—you collect cards and manage your deck. But that's where the similarities end. Let's take a close look at Sorare, how to start your journey with this game, and what are the earning opportunities here.
What Is Sorare NFT?
Sorare is a football-themed collectible card game where cards are unique NFT tokens. If you'd like to learn the essential basics about NFTs, here's our article. Sorare NFT follows the ERC721 standard which ensures that the smart contracts are secure and auditable. Simply put, blockchain technology ensures the genuineness and fraud-resistance of rare collectibles.
If you've ever dreamed of being a football team manager, this game will give you the flavor. Everything here revolves around managing a team and tracking players' performance.
Your club consists of cards with football players depicted on collectible cards. You can use 5 of these cards to create your team. Based on the real-life performance of players, your cards earn XP, become stronger, and compete against other Sorare players. So apart from playing, you'll test your football knowledge, which can be used anywhere from get-togethers in the pub to betting.
Trading cards is an essential part of the game. Rare cards are bought and sold at the marketplace. As the price of a specific card may vary, trading cards can be profitable. For example, here are the prices of some Sorare cards.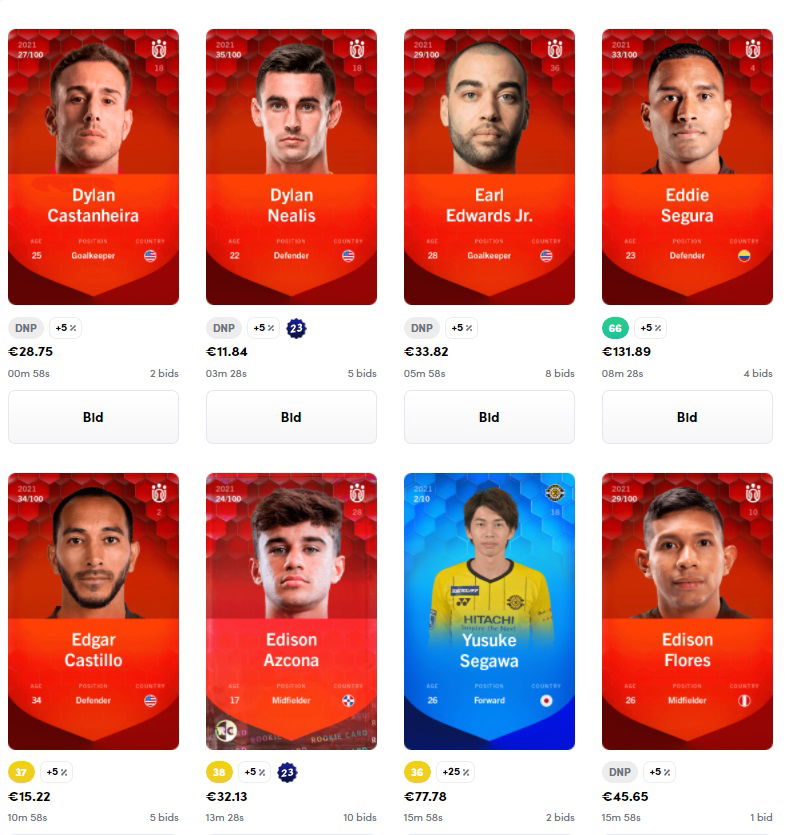 "Is Sorare legit?" you may ask. Short answer: yes, Sorare is legit due to partnerships with various football leagues and organizations like the Belgian Pro League and the MLSPA. There are 142 officially licensed football clubs. The list of licenced clubs includes such world-renowned names as Real Madrid, PSG, Juventus, and many others.
So club and football player info is used legitimately. As for the technology, the cards are written down into a public blockchain. This process ensures that no forgeries can be used together with real cards.
Wrapping up, you may find Sorare interesting if you like collectible card games, football, or exploring the growing NFT trend. As a rising project at the junction of several industries, Sorare is definitely worth checking out. And if you'd like to start your own journey with Sorare, here's a guide for you.
Sorare Guide for Beginners
Getting started with Sorare is a great way to have some fun while also diving into the NFT industry. Here are the first steps with Sorare.
1. Sign up here. Using this link will give you a bonus on your initial draft of common cards plus an additional free rare card you'll get after buying 5 cards.
2. Choose your username and set up your team. You'll get free common cards.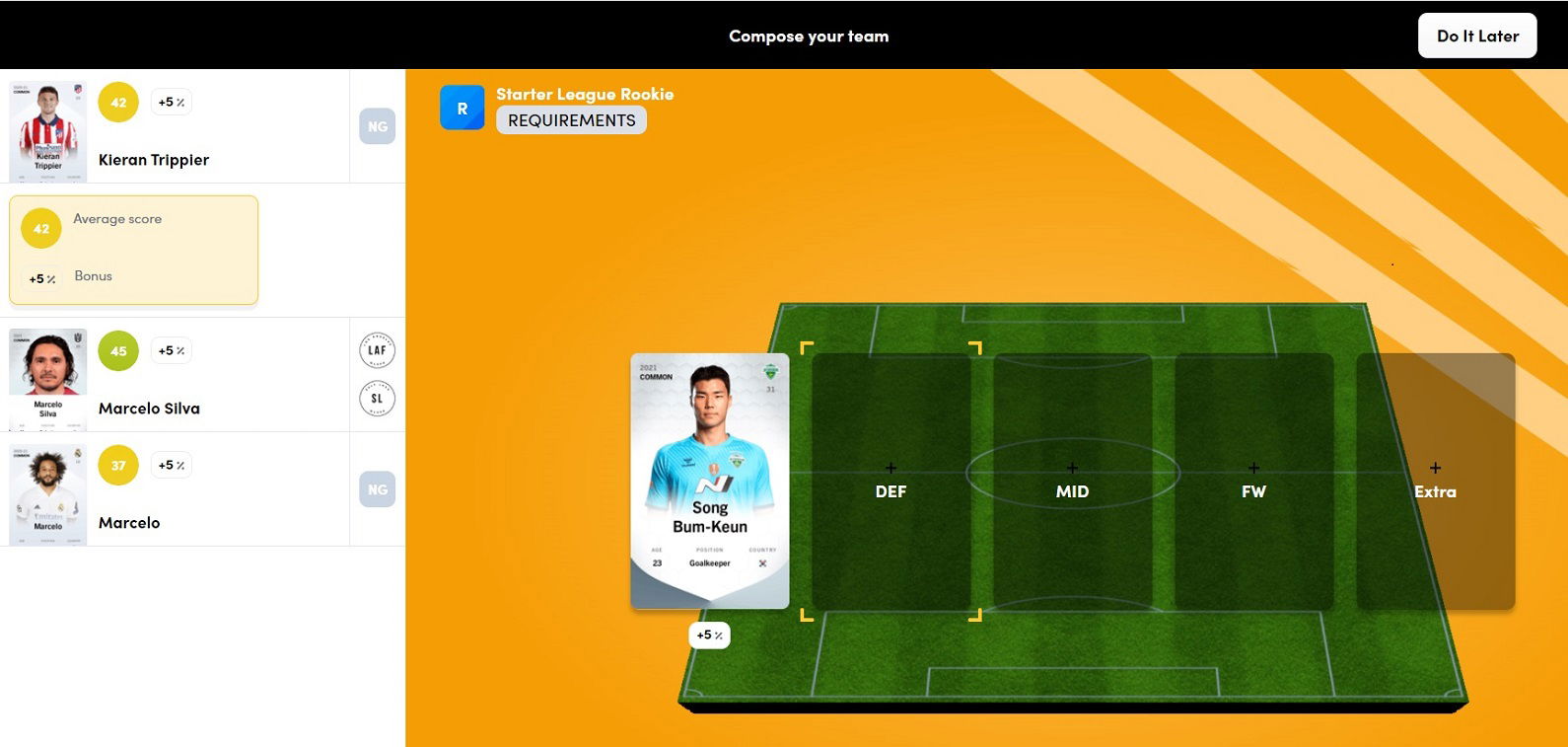 3. Compose your team. Since you are a rookie, your set of cards is pretty limited. Still, if you have a choice, it's a good idea to include cards with a higher average score. Don't worry though, as you can change your team setup later.
An essential part of the ecosystem is the marketplace. To access it, press the Market button in the upper left corner. Here you can get stronger cards. Cards vary by their score, price, and rarity. By rarity, all cards are divided into four groups:
Common (widely available and, thus, can't be traded).
Rare (100 cards per season)
Super rare (only 10 cards per season)
Unique (one and only per season)
The cards are traded using an auction system. It means that each user makes a bid, and cards are sold to the highest bidder. If your bid was topped, you won't have to pay anything. Apart from buying rare cards, you can win them by participating in Sorare tournaments.
More Sorare Tips
Here are some of the best Sorare tips.
Track news about real-life football players. Real-life injuries, suspensions, or lineups can dramatically influence the in-game value of cards. Needless to say that even a good forward won't score many goals after an injury.
Think strategically. The card score and, to a great extent, its value is based on the performance in recent matches. If you are confident that a player will perform better in the future, it may be a great idea to get a potentially strong card while the score is still low. Alternatively, you can sell a card whose value may drop soon and buy it back later.
Don't forget about time zones. From personal experience, the bidding activity is uneven throughout the day. It seems that the busiest hours are 13:00-15:00 and 19:00-21:00 CET. So the bidding competition may be higher. Of course, activity may vary depending on a day or match schedule.
Check a card's history. When buying a card, take a look at the price record. Just click on a card and scroll down to see previous bids. Also, don't forget to check the average score. It can change dramatically—in two weeks Jesse Lingard's card went from 42 to 75 and then back down to 40. Remember, knowing both price and score history will help you to avoid buying high and selling low.
Verify your phone and email. This measure will help you to recover your account if you forgot your password.
Verify your phone and email. This measure will help you to recover your account if you forgot your password.