| | |
| --- | --- |
| We recommend to buy Matic at Binance Exchange | |
Matic Network Review
Let's take a look at another Binance Launchpad project. Meet Matic, a scalable blockchain network. Matic token sale was successful, with more than $5 million gathered (same as Harmony and slightly lesser than Fetch).
In this Matic review, we'll find out more about the project and bring ourselves one step closer to answering a question: "is Matic a good investment?".
What is Matic?
Matic is a scalable blockchain platform for creating decentralized apps. MATIC is an ERC-20 token, used within the network. Matic total supply is 10,000,000,000 tokens. 19% of them were allocated for the Launchpad.
Matic is created to solve the standard set of blockchain problems: slow transactions, lack of scalability, overcomplicated user interface, and high fees.
To solve thins problems, the team focuses on creating a scalable blockchain platform using an implementation of the Plasma framework. The scalability is achieved by using public sidechains for off-chain computation. Sidechains will provide faster and cheaper transactions. And the first step of achieving better UI is creating a set of developer tools. The whole ecosystem is built with the attention to UI/UX.
The main use cases are payments (should we even mention them?), decentralized exchanges, and gaming. DEXs will help Matic to reach interoperability between blockchains.
Perhaps, the closest Matic competitors are new scalable networks: Harmony and Elrond, for example. Despite sharing the goal (scalability), the tech concept of Matic is quite different.
Matic Team
The team consists of 15 members + 3 advisors. The team is quite-well balanced, with a strong focus on product. The main location for the team is Mumbai, India. Let's take a closer look at the people working on the network.
Jaynti Kanani, Co-founder & CEO. Jaynti is professional software development. Worked as a Data Scientist at Housing.com previously to founding Matic. Contributor to Web3, Plasma, and WalletConnect.
Sandeep Nailwal, Co-founder & COO. Sandeep has experience with blockchain and e-commerce. Prior to Matic, he founded ScopeWeaver. Also, he was a Head of Tech & Supply Chain in Welspun Group and a Deloitte consultant.
Anurag Arjun, Co-founder & CPO. Anurag has a vast experience in Product Management and Development.
Siddharth Jain, VP, Operations & Marketing. Before joining Matic, he worked as the Assistant Project Manager at EXL.
Matic has three advisors, including Esteban Ordano, Founder and CTO of Decentraland. Nice for Matic, as not all projects have advisors with experience in creating a known blockchain (though Decentraland is not among the biggest cryptos).
Technology
Matic is an open-source project. The core idea of Matic is building Layer 2 Ethereum solution using Plasma framework and sidechains. The end product is a blockchain platform for creating dApps with advanced UI.
The Plasma framework ensures the security of assets (Ethereum tokens) on the main chain. Transactions are supported by the PoS network.
Matic sidechains are public and permissionless scalability tools. They will allow developers to scale their dApps. So fat, Matic sidechains can scale the Ethereum blockchain. In the future, they can be applied to other blockchains.
Matic has a PoS consensus. The consensus should be reached at the checkpointing layer and at the block producer layer to ensure high throughput and decentralization by achieving finality on the main chain. The block producers are selected by the PoS mechanism. Later, they create blocks. Here's how it looks like.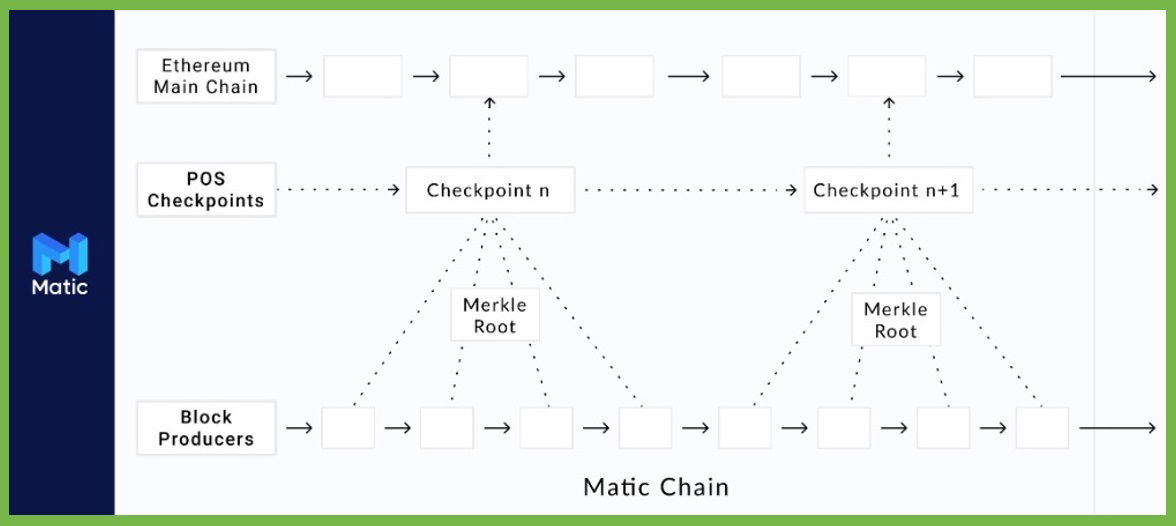 The Matic checkpointing layer supports multiple sidechains by design. The blocks on the block producers layer are generated in ~1 second. In theory, each sidechain can reach tens of thousands of transactions per second. Now, according to Binance, Matic can reach up tp 7,000 TPS on a sidechain.
Fraud Proofs is a mechanism for additional security of transactions. This mechanism allows anyone on the main chain to submit the details of a potentially fraudulent transaction. If it is fraudulent, stakes of the parties involved in the fraud are slashed, and the challenger receives a reward.
There is an already released Matic wallet, which is available on App Store and Google Play. Another infrastructure element called Dagger. It's a tool for developers, which allows getting real-time notifications about transactions/events on Ethereum blockchain. For example, you can monitor the transactions to the particular Ethereum address with Dagger.
Communication
As for social media, the main channels are Twitter (22.8k followers) and Telegram (27.9k). And, of course, LinkedIn and Medium.
Tech content and community engagement are quite good. As for the whitepaper, it's quite dense. Fortunately, there is the Litepaper as well. The team took effort to make the concept more understandable, which is great. Overall, Matic has a nice start with communicating its vision to the world.
Matic Partnerships
There are several notable partners. Let's have a look.
Chainlink – decentralized oracle network (you can read more about this crypto in our Chainlink review. The integration enables the correct input of real-world data to smart contracts within the Matic network.
Decentraland – a platform for virtual reality platform run on Ethereum. This partnership helps both projects to explore the opportunities of using scalable smart contracts.
Zebi – blockchain project aimed at bringing blockchain to big data. Matic and Zebi are working together on blockchain-powered identity and privacy solutions.
Maker – a stablecoin ecosystem (read more). Matic will support the DAI stablecoin on the sidechains.
Ankr – a cloud computing platform. Matic partners with Ankr to research and build side chains, as well as creating better community outreach.
Matic Summary
Is Matic good? It is as good as the majority of Launchpad projects. Maybe, somewhat better with tech. The team is experienced in software development, and advisors from Decentraland is a plus. Moreover, having a token sale on Binance gives a certain degree of trust from the crypto investors.
Overall, the project's progress looks decent, taking into account the resources it had before Binance token sale. The technology looks interesting, yet it's still too early to call it an Ethereum layer 2 solutions.
Anyway, the intense focus on tech gives Matic Network the potential. And a place in our list of the undervalued cryptocurrencies.
Matic Network Rating
| | | | | |
| --- | --- | --- | --- | --- |
| Concept | Team | Communication | Product | Overall |
| 8.0 | 7.9 | 7.0 | 7.9 | 7.7 |
Where to Buy Matic Coin
To buy Matic, open your account at Binance exchange today!
Alternatively, you can try Bilaxy, a promising new crypto exchange.