Elrond Network is the most recent Binance Launchpad project. Similar to Harmony and Matic, Elrond has a token sale in a lottery format. The end of the token sale was scheduled for July 2, 2019. Find out more about Elrond token in our Elrond Review.
Solving Blockchain Trilemma
The Elrond Network is another exciting third-generation cryptocurrency project. Elrond is designed to become a tool of value transfer for modern digital economy and IoT.
The big step towards this goal is solving the blockchain trilemma. Blockchain trilemma refers to the ability of a blockchain to have only two out of three features – scalability, security, and decentralization. Many modern projects are trying to find the solution for the trilemma and bring out the blockchain, which is scalable, secure, and decentralized at the same time.
Apart from that, Elrond is creating working towards solving the interoperability issue. Interoperability is required for a direct connection between different blockchain, without the need for intermediaries (like cryptocurrency exchanges and trading platforms).
Undoubtedly, security is a must-have. Decentralization is the concept of peer-to-peer transactions without a need for a third party. Decentralization is the main feature behind cryptocurrency, so neglecting this aspect should be avoided.
That's why earlier blockchain networks, especially Bitcoin, are secure and decentralized. Yet, not scalable. And the scalability issue is among the most important in the blockchain industry. Scalability is vital for both enterprise adoption and experience of an ordinary user. Moreover, the scalable blockchain is needed for rapidly-growing IoT demand in transaction solutions.
The Elrond solution to the blockchain trilemma is creating the new blockchain architecture that is designed for practical scalability using Adaptive State Sharding and a new Secure Proof-of-Stake (SPoS) consensus mechanism.
To put it simply, Elrond is a decentralized, scalable, and secure blockchain network with low transaction fees.
Team
The Elrond Network has a medium-sized team with nearly 20 members + 7 advisors. The leadership team looks quite professional, with experience in blockchain space. Elrond Ltd. is registered in Malta. The significant part of the team is located in Romania. Let's take a look at some of the Elrond team members.
Beniamin Mincu, Founder & CEO. Beniamin has a solid experience in blockchain. Before starting up Elrond, he was the CEO of ICO Market Data and Metachain Capital. Apart from that, he was a member of the NEM Foundation, where he led the business, marketing, and community efforts.
Lucian Todea, Co-Founder & COO. Lucian is an entrepreneur and investor. In addition to Elrond, Lucian is the Founder & CEO of Soft 32, an online software platform that facilitates the distribution and sales of apps.
Lucian Mincu, Co-founder & CIO. Lucian is a skilled infrastructure engineer with eight years of experience. He co-founded Metachain Capital and ICO Market Data.
Felix Crisan, Head of Research. In addition to Elrond, Felix is currently the Co-founder and CTO of Netopia, Romanian mobile solutions provider. Also, Felix co-founded BTKO, Romania's first Bitcoin exchange platform. Felix has many known companies in his track record, including Hewlett-Packard and IBM.
Adrian Dobrita, Head of Engineering. Adrian is an experienced software engineer. He developed software solutions for several well-known companies, including Intel, Samsung, Faiveley, and Continental.
There are many notable experts in various fields among Elrond advisors. This list includes Business advisor Alex Iskold (Managing Partner at 2048 Ventures), Technical advisor Fabio C. Canesin (Co-Founder of City of Zion and NEX), and others.
Communication
Having a tokensale on Binance Launchpad is a good way to get not only funding but significant attention as well. Let's take a look at other communication aspects of Elrond.
As for social media, Elrond is present on main social media channels, including Twitter, LinkedIn, Telegram, and Youtube. Elrond's fast-growing consists of 9k Twitter followers and 10k on Telegram.
The delivery of technical information is good, with all key features highlighted and explained in an easy-to-understand way. The Elrond code is available on GitHub for more tech-savvy users.
The Technical Roadmap shows the current progress and upcoming features. According to the Roadmap, the mainnet is scheduled for Q4 2019.
There are several interesting Elrond partnerships/cooperations. First of them is the cooperation with NETOPIA, a payment provider. The second one is the cooperation with Nash (formerly NEX), a decentralized finance platform. There are several others, which is quite good for a project on the testnet stage.
Product
Elrond Network has an ERD token. The total supply would is 20,000,000,000 ERD, with 7,498,333,333 ERD in initial circulation supply. The utility of Elrond token is participation in the consensus mechanism. Apart from that, it is a payment method and a reward for validators. In the future, it will be used for voting in the upcoming decentralized governance system.
Update: The ERD token is going to be renamed and re-denominated to eGLD. There are no other technical differences.
Elrond utilizes Secure Proof-of-Stake (SPoS) consensus mechanism. It provides eligibility through stake and rating. The validator selection is random. The consensus mechanism has two stages. Firstly, a group of validators is selected. After the selection, a new block is sent for verification. Each validator will verify the validity of the block, process the transaction, and if everything checks out will participate in the pBFT consensus. The voting in the pBFT is done for every validator by sending a signature for a multi-signature scheme. Security is the top priority. Prevention of Sybil attacks, DDoS attacks, and other attack types was described.
SPoS shares some similar features with Algorand's PPoS. For example, the random selection of the consensus group (yet in Elrond's SPoS this process is much faster).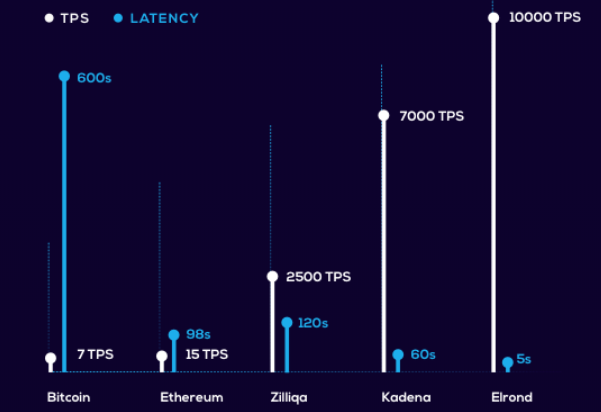 Blockchain scalability and latency. Source: Elrond Network
The high transaction throughput and low latency are among the key features. The high throughput is reached by utilizing sharding. Elrond has a special sharding mechanism called Adaptive State Sharding. This type of sharding ensures that the number of shards changes dynamically according to the available resources. This gives not only high performance but also makes it more cost-efficient.
The transactions in the network are almost instant, confirmed within seconds. Upgraded PoS consensus will ensure low transaction costs.
To buy Elrond, open your account at Binance exchange today! Alternatively, you can buy Elrond at Bilaxy.
Touching on the performance, Elrond has reached over 35,000 transactions per second (according to Lucian Mincu). That's an enormous achievement for blockchain space. For comparison, Zilliqa, the first blockchain successfully implemented sharding, has 2,828 as the peak transaction throughput. Fantom claims to have near 20,000 TPS observed in the testnet.
Cross-chain interoperability is another aim of the project. Elrond interoperability can be reached by using solutions on the virtual machine level. The priority is the compliance with Ethereum VM and smart contracts in Solidity.
Overall, the focus on the product is really strong. Though the project is on the testnet stage, the progress of the development and results are excellent.
Elrond Summary
Binance Launchpad tokensale.
Focus on scalability, security, decentralization, and interoperability.
Experienced team.
SPoS consensus algorithm.
Advanced Adaptive State Sharding.
More than 35,000 TPS reached.
Good level of technical content.
Conclusion and Elrond Rating
Previous-generation cryptocurrencies, like Bitcoin and Ethereum, are not scalable by design. Moreover, Blockchain 3.0 projects are still budding, so Elrond Network can, potentially, become the market leader among the scalable blockchains. Though there is much competition here. First and foremost, from the projects that have already presented significant progress with scalability (for example, Zilliqa, Algorand, and Fantom). The Elrond tech solutions look advanced. The team implemented some good practices and analyzed the achievements of older blockchain projects to improve Elrond technology.
In our opinion, the best about Elrond is its experienced team and technology. The attention from crypto media and community brought to Elrond by Binance, is a strong point as well. Elrond Network is on the testnet stage, and only time will tell how good the final product would be. However, the potential this token has might be a good reason to name Elrond among the best Binance Launchpad projects and the undervalued altcoins.
| | | | | |
| --- | --- | --- | --- | --- |
| Concept | Team | Communication | Product | Overall |
| 7.9 | 8.3 | 7.0 | 8.4 | 7.9 |
Find our materials interesting? You can support us:
BTC: bc1qf3gs2ejpp7hxpgsj0m8vm9ewpjjf6kmjg7qx3p

LTC: LKpenoKjV9gbsFJhS53Bv66cJJbFEMr3Y8