| | |
| --- | --- |
| We recommend to buy Harmony at Binance Exchange | |
Harmony Token Review
With Binance Launchpad on the rise, Harmony (ONE) is another cryptocurrency successfully set in motion. Another notable Binance Launchpad projects are Fetch, Matic, Celer and others. Harmony token sale was completed only a couple of weeks ago, but the project has already been paid high attention to by the global crypto community. Let's find out if Harmony is an undervalued cryptocurrency.
Concept
Harmony is a fast and secure blockchain with key innovations in state sharding and peer-to-peer networking.
Harmony aims to help businesses to build marketplaces of fungible tokens (such as loyalty points) and non-fungible assets (game collectibles, for example). Harmony applies zero-knowledge proofs for simultaneous data sharing and protecting customer's privacy.
The problems Harmony is meant to solve are common for the whole blockchain industry. First and foremost, the issue Harmony solves is scalability. Harmony aims to be the first scalable network in production with proof-of-stake.
Scalability is an ability to increase the size and throughput of the network. The most common metric for scalability is Transaction Per Seconds, the number of transactions the network can process each second. Bitcoin can perform 4-7 transactions per second. There are highly scalable networks, able to process thousands of transactions per second — for example, Zilliqa and Fantom.
Harmony is built with great attention to careful research and a high level of network security. Harmony uses formal verifications to ensure the security and performance of the network. Harmony designed to be as free of bugs and faults as it is possible. For potential use cases, the highlighted industries are gaming, data sharing, and supply chain tracking.
Ultimately, Harmony is creating an advanced blockchain platform, which could become an alternative to Ethereum. You can buy Harmony coin on Binance and KuCoin.
Team
Harmony has a team of 12. The team is well-balanced and grows actively. Harmony's main base is in Cupertino, California. Let's take a look at some of Harmony team members.
Stephen Tse, Founder & CEO. His notable background includes the greatest software giants: Apple, Google, and Microsoft. Also, he founded Spotsetter, a startup later acquired by Apple. Stephen has got a Ph.D. from the University of Pennsylvania. His academic background is related to security protocols.
Nicolas Burtey, Co-Founder and COO. A tech entrepreneur, Founder of Orah, a company working on virtual reality solutions.
Alok Kothari, Co-Founder. An expert in computer science. Before Harmony, Alok worked as machine learning engineer at Apple.
Rongjian Lan, Co-Founder, and CTO. An experienced software engineer with several big companies (including Google) in his track record.
Overall, Harmony team looks both professional and quite strong in numbers to bring the project into life.
Communication
Let's take a look at Harmony, communicating the vision to the world. Quite good social media basis with 48k Harmony Twitter followers (great, especially compared to other Launchpad cryptocurrencies) and other social media channels. Harmony provides some good Medium articles, often enough to keep the community updated. Another good way to communicate the progress of development is a monthly newsletter. Overall, the content quality and delivery are on a good level.
Apart from that, Binance Launchpad has put a spotlight on Haromy, which is good for spreading the awareness of Harmony. Binance presents comprehensive information about the project.
The ecosystem building strategy is focused on creating partnerships that drive the adoption of the protocol. Harmony partners include:
NOIZ, AI & blockchain platform. This partnership will allow NOIZ to reach high throughput.
Contentos, decentralized content ecosystem. One of the opportunities here is a built-in streaming option in games built on Harmony blockchain.
Ankr, distributed computing platform. The aim of this partnership is growing dApps on Distributed Cloud.
Apart from that, Harmony announced the integration with Chainlink for Off-Chain Connectivity. Chainlink is the leading oracle service provider. You can find out more about this project here.
Product
Harmony token (ONE) is a BEP-2 token. In other words, Harmony is based on Binance Chain. The Harmony total supply is 12,600,000,000 ONE. Initially, 24.3% of Total Token Supply (3,061,800,000 ONE tokens) will be in circulation. The image shows Harmony ONE token allocation.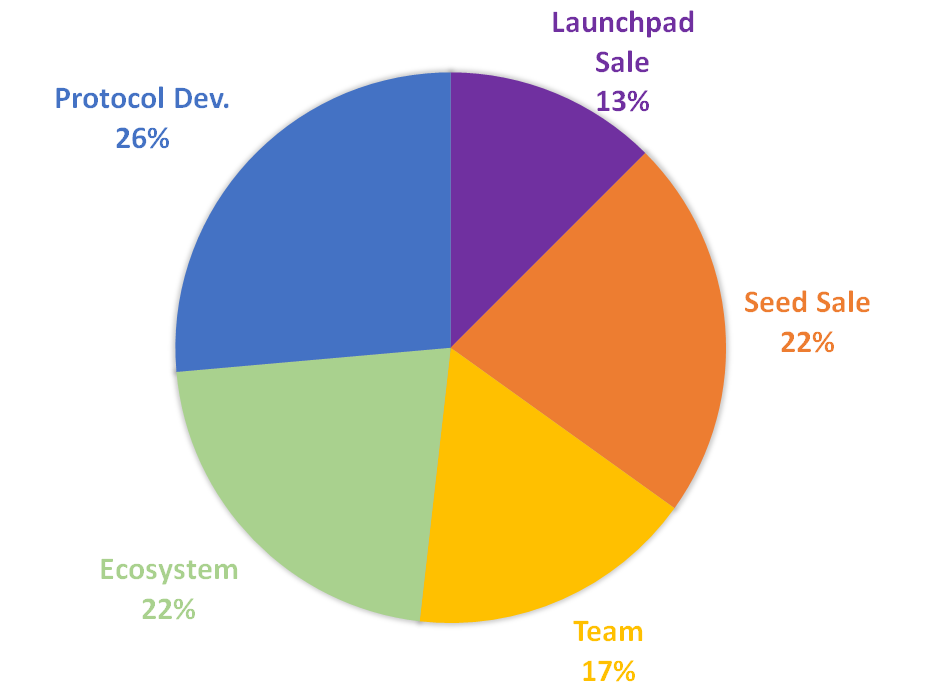 Harmony Token Allocation. Based on Binance.
The method to make Harmony scalable is sharding—a method of splitting the network into several parts called shards. Sharding greatly increases the throughput of the network. The throughput increases linearly with the network size. Implementing sharding to distributed ledgers allows the combination of high performance and decentralization. The first public blockchain that implemented sharding was Zilliqa. Harmony offer to improve that technology even further.
There are several interesting features and tech solutions that make Harmony stand out.
Full Scalability. Harmony shards not only the network communication and transaction validation like Zilliqa but also shards the blockchain state. This makes Harmony a fully scalable blockchain.
Secure Sharding. Harmony's sharding process is provably secure thanks to the distributed randomness generation (DRG) process.
Consistent Cross-Shard Transactions. Harmony supports cross-shard transactions with shards directly communicating with each other. The connection between shards allows the whole network to have advanced scalability.
Improved Consensus Mechanism. Harmony consensus is called FBFT (Fast Byzantine Fault Tolerant). This consensus is an improvement to PBFT that makes the process of reaching consensus faster. The core principles are similar. Both consensus types have the leader node and validator nodes. The leader broadcasts the data, and validators agree if this data is correct. FBFT uses multi-signatures to make the validation faster. The validators of Harmony's consensus are elected based on Proof-of-Stake. The PoS gives additional security to the network.
Blockchain State Sharding. Harmony's state sharding divides the storage of blockchain data. Each shard to hold a subset of the blockchain state. This makes the Harmony network to be more decentralized.
Now, Harmony is on the Testnet stage, so many features are yet to be implemented. The testing goes actively, according to the Roadmap. Harmony has the Puzzle app, a short demo on-chain app.
Harmony Summary
Blockchain platform with the focus on the scalability.
Similar to Zilliqa, Harmony has linear scalability, and the high throughput is achieved via sharding.
Claims to have advanced scalability and sharding, compared to Zilliqa.
Harmony utilizes FBFT consensus algorithm.
The team aims to achieve 100,000 TPS within a year.
Strong team with top-level software professionals.
Good level of technical information delivery.
Partnerships with NOIZ, Contentos, Ankr.
Implementing Chainlink oracle.
Active and rapidly-growing community.
Conclusion and Harmony Rating
Harmony shares many similarities with Zilliqa, an advanced blockchain platform famed for the tech solutions it brings. The technical side of Harmony network looks promising, with several important improvements compared to Zilliqa. Only time will tell how much additional value they can bring. To buy Harmony, open your account at Binance exchange.
Harmony team has an ambitious plan to reach 100,000 TPS. Mathematically, these numbers are possible to achieve, as the maximum throughput linear scalability allows to achieve has not been discovered yet. However, it is obviously extremely high, compared to the majority of coins of previous generations.
The role of the community, specifically the node operators, is very high. After all, the amount of Harmony nodes is vital for maintaining multiple shards and achieving high throughput. That's why communication is important for the whole Harmony ecosystem. So far, Harmony shows quite a good strategy towards communicating its vision to the global crypto community.
Last but not least. The team the wide set of software skills, which is the good side of the project. Taking into account that the product is really advanced, even groundbreaking, the solid academic background of some team members could come in handy.
Overall, we consider Harmony a promising project with many excellent ideas and tech solutions. Is Harmony undervalued? The chances are high that it is. However, Zilliqa and other third-generation cryptocurrencies might create a serious competition.
| | | | | |
| --- | --- | --- | --- | --- |
| Concept | Team | Communication | Product | Overall |
| 8.1 | 8.2 | 7.7 | 8.0 | 8.0 |
---
Find your materials interesting? You can support us:
BTC: bc1qf3gs2ejpp7hxpgsj0m8vm9ewpjjf6kmjg7qx3p
LTC: LKpenoKjV9gbsFJhS53Bv66cJJbFEMr3Y8