What is KuCoin?
KuCoin is among the best cryptocurrency exchanges for those, who are looking for advanced functions and security. KuCoin allows to trade Bitcoin and more than 250 altcoins, including ETH, LTC, NEO, ZIL, MTC, and others. Moreover, Kucoin has its own token KCS.
Also, it's possible to buy Bitcoin, Ethereum, Bitcoin Cash, Ripple, and Litecoin with Visa card. Many new altcoins have listings on Kucoin early. Kucoin might be a good exchange for those looking for an alternative to Binance.
Is KuCoin safe?
KuCoin applies many security mechanisms to protect users and funds. Safety is the first priority for the exchange. In our opinion and based in our experience, KuCoin is a safe crypto exchange.
What makes KuCoin a good exchange?
In our opinion, the best KuCoin features are:
- More than 250 altcoins to trade.
- Possible to buy BTC and other major cryptos with fiat.
- Advanced security.
- Very good customer support.
- Low fees.
- User friendly interface.
- 12 languages supported.
- Updates and promotions.
… And constant effort to become the best crypto exchange.
KuCoin Sign Up
It's easy to sign up to KuCoin and start trading crypto.
1. Firstly, go to KuCoin and click Sign Up at the top left corner.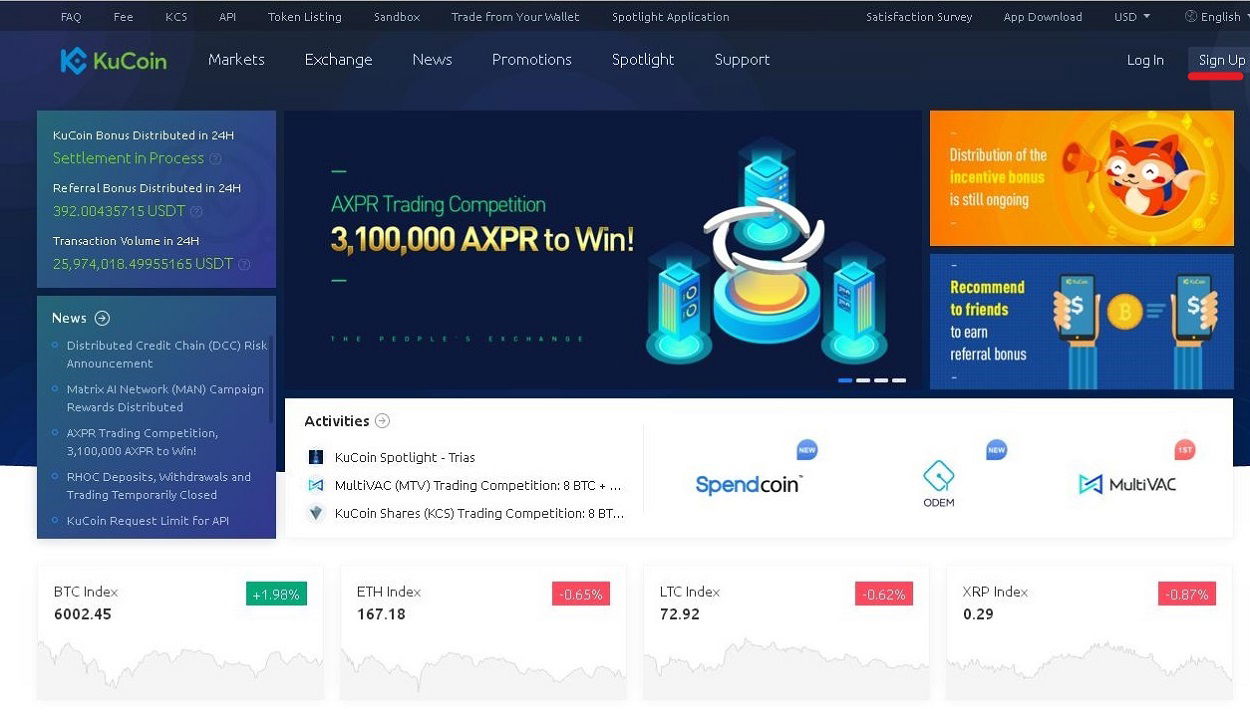 2. You'll see a window like the one below. Enter your e-mail and press «Send Code». The code will be sent to your email. You'll get a code you need to enter to proceed. Note: if you haven't got the code, try to check Spam.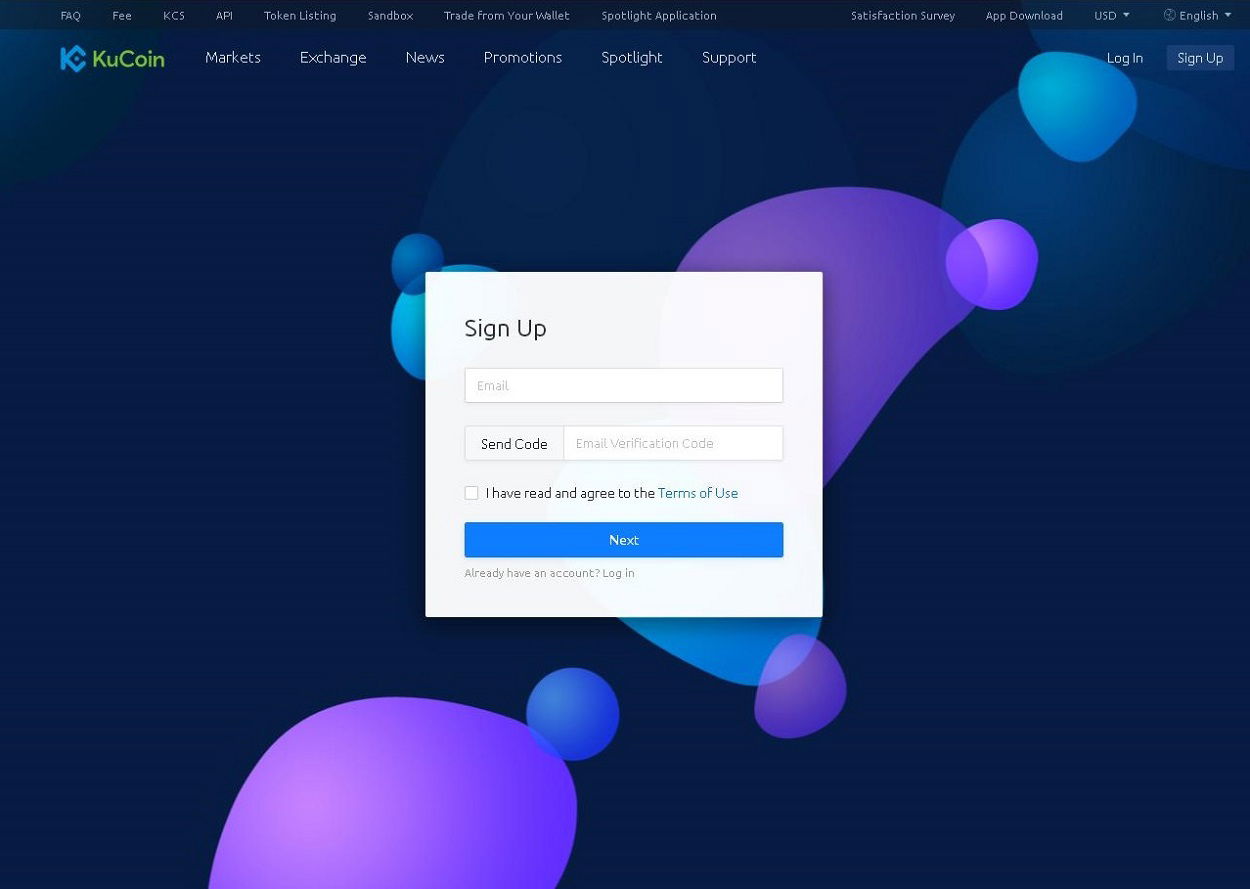 3. Enter the code. Read and agree to «Terms of Use». After that, set up your password. Make it as secure as possible by using upper and lower case, numbers and symbols.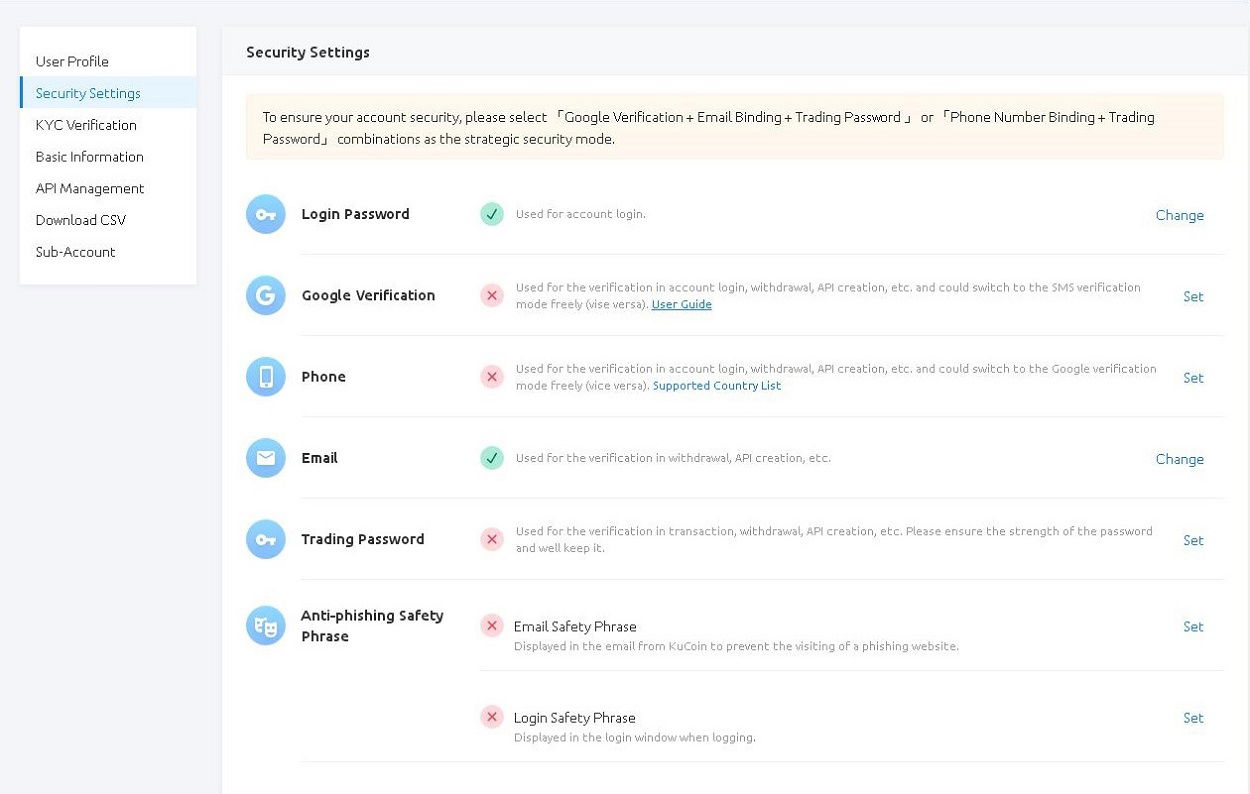 4. That's it. The registration is completed. You'll see your user profile. Try to click Security Settings to set up more advanced security. KuCoin allows to ensure the security of your account by setting up the Google verification. We recommend to do it. Here's the guide:
https://kucoin.zendesk.com/hc/en-us/articles/360014897913-How-to-Bind-Google-2FA
What's next?
First of all, you will need some funds. You can deposit the crypto by clicking «Assets». After that, click «Deposit» and select the cryptocurrency you want to transfer to KuCoin. You will get a KuCoin deposit address for this crypto.
Apart from that, it is possible to buy Bitcoin and some altcoins directly with Visa card.
Another important thing to know. KuCoin has Main and Trading accounts. It's always possible to transfer your funds between them. The Main Account is used for storage, withdrawal, and deposit of funds. By default, the cryptocurrencies that you deposit to KuCoin are be stored in the main account. The funds in the trading account are used for trading.
Important note: Be sure to deposit the right crypto to the address you selected. Send Bitcoin to Bitcoin address, Litecoin to Litecoin address, etc., as different cryptocurrencies have different addresses on exchanges.
The Withdraw process is pretty similar. Click «Assets» => «Withdrawal». You will need to enter the address you would like to withdraw funds to and the withdrawal amount. Again, remember to enter the right address. You can withdraw NEO to NEO address, Ethereum to Ethereum and so on. Never forget to double-check to be sure you send your funds to the right addresses.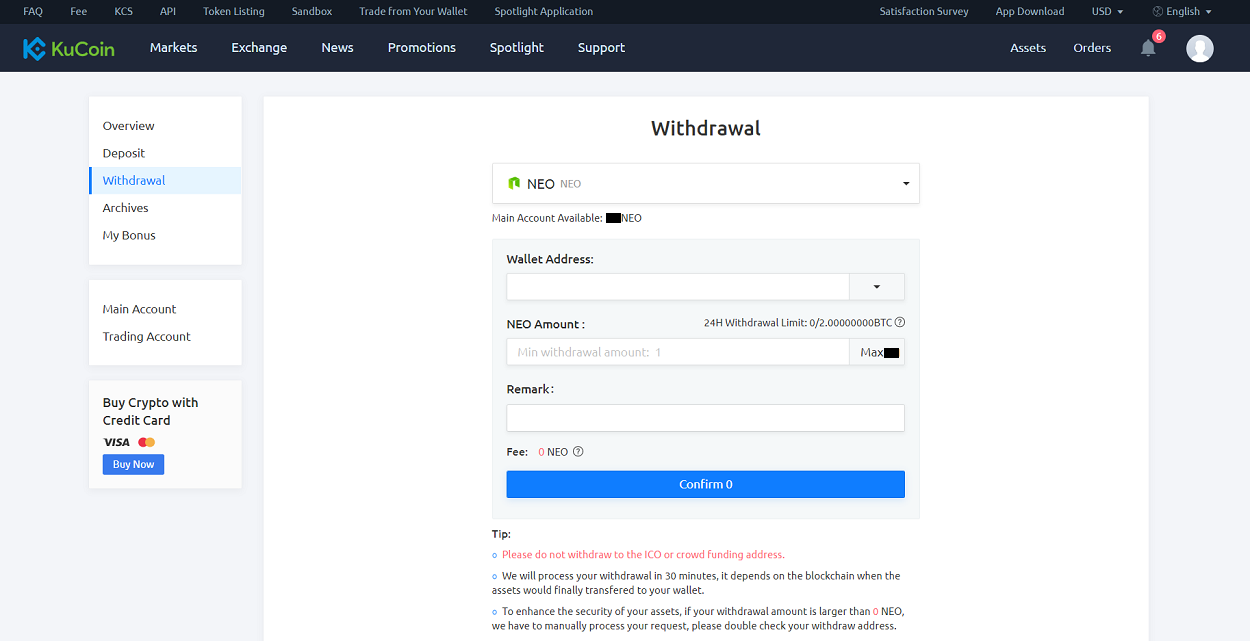 How to trade cryptocurrency?
The KuCoin interface is quite easy to understand. Besides, Kucoin provide comprehensive guides on trading. Let's make a short summary of trading crypto on KuCoin.
To start trading crypto you need to have some funds on KuCoin exchange. Already made a deposit? Click «Assets» then «Main account». Then transfer funds to Trading account to be able to trade. Already have some funds on your Trading account? Great, now you can buy Ethereum or another crypto you want.
To trade cryptocurrency, you'll need to «Exchange». Then you'll see the KuCoin trading interface. That's how it looks.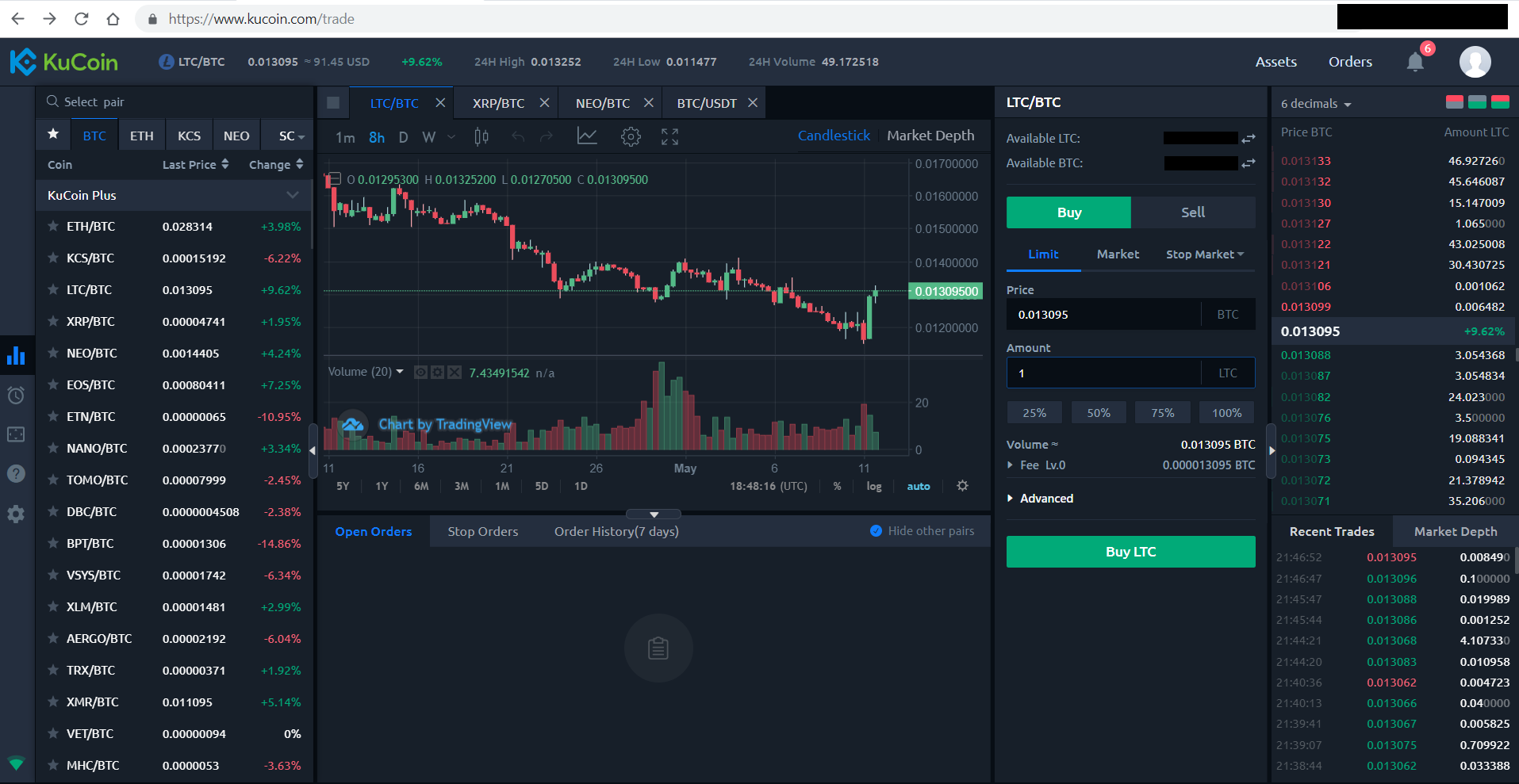 For example, let's try to buy Litecoin with Bitcoin. The first step would be selecting BTC in the upper left corner. Secondly, select the crypto pair LTC/BTC. On the right, you can set up the price you want to buy Litecoin for and the amount you want to buy. Now, click «Buy» to open the order. Of course, there are more options, but that's the basics.
In conclusion
KuCoin is a solid cryptocurrency exchange, and we have confidence in it. It is one of the best crypto exchanges with multiple altcoins to trade. The fees are lower, than many other exchanges can offer. And the customer support is much better. If you are looking for a safe exchange to buy Bitcoin, Ethereum, Stellar, and 250 other cryptocurrencies, try the KuCoin exchange.